Black clouds over onshore wind turbines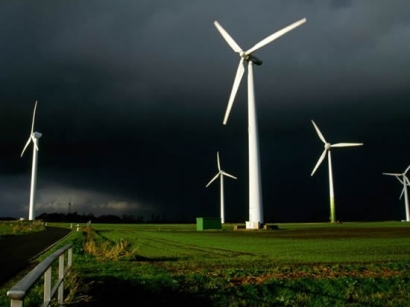 The Government has wasted no time in showing where the wind blows regarding their policy towards onshore wind power. Antony Mason assesses their aggressive pincer movement
If you want a textbook example of political spin, take a look at the government announcement about the end of new public subsidies for onshore wind farms. It begins in the title: "Changes to onshore wind subsidies protect investment and get the best deal for bill payers."
Sounds good!
Then the hatchet falls. The Government is bringing forward by a year, to 1 April 2016, the end of new public subsidies for windfarms.
But this great news for Britain's "hardworking families", according to Energy and Climate Change Secretary Amber Rudd, because they'll see their energy bills being kept "as low as possible".
"As part of our plan, we are committed to cutting our carbon emissions by fostering enterprise, competition, opportunity and growth," she continues. "We want to help technologies stand on their own two feet, not encourage a reliance on public subsidies."
It's character-building, you see. Like cold showers for the kids.
And that's not all. Communities Secretary Greg Clark has announced new planning rules, which – in accordance with a Conservative manifesto pledge – will give enhanced powers to local communities to obstruct wind power projects. These took effect on 18 June.
As Clark put it in Parliament: "If a planning application has already been made for wind turbines in an area where the local plan does not identify suitable sites, the council will only be able to approve the application where it addresses the planning concerns of the affected community and therefore has local backing."
During the debate about wind energy in the House of Commons on 22 June 2015, Amber Rudd was asked by the Conservative MP for North West Hampshire, Kit Malthouse, "Can she reassure those worried communities that that means that they cannot now be overruled by the Planning Inspectorate?" She responded: "Yes, I can."
Amber Rudd sums it all up succinctly: "So we are driving forward our commitment to end new onshore wind subsidies and give local communities the final say over any new windfarms." She adds reassuringly: "Onshore wind is an important part of our energy mix and we now have enough subsidised projects in the pipeline to meet our renewable energy commitments."
What's not to like?
Quite a lot, actually. Especially if you ask the Scots.
Some 70% of onshore wind projects in the UK planning system are in Scotland – and estimates suggest that it could lose £3 billion of investment as a result of the scrapping of the subsidy scheme for new onshore windfarms.
The only people who might see a glimmer of bright sky in this stormy horizon are those working on projects that "already have planning consent, a grid connection offer and acceptance, as well as evidence of land rights", as part of "up to 5.2GW of onshore wind capacity [that] could be eligible for grace periods which the Government is minded to offer".
About 3000 wind turbine projects across the UK are currently looking for planning consent. You could say their prospects have dimmed significantly.
How much has changed since the bright days of 2002 when the Renewables Obligation (RO) was introduced "to provide incentives for the deployment of large-scale renewable electricity in the UK"!
To judge from the Government policy you might have thought that the UK had already reached the sunlit uplands of carbon-free energy.
Or you could share First Minister of Scotland Nicola Sturgeon's more forthright view of this policy initiative: "wrong-headed, perverse and downright outrageous".